About Us
We serve a whopping 24 draught beers & ciders including 8 cask lines and 16 kegs pouring at any one time! If that's not enough we have the fridges brimming with bottled & canned beers from around the world. We also have a fine selection of Wines & Spirits, including a selection of premium wines served exclusively by the bottle. Topped off with beer dough stone baked pizzas made from scratch on site.
We are the Pivovar team behind Pivni, York Tap, Pavement Vaults, Market Cat, Sheffield Tap, Tapped Leeds, Bankers Cat, Harrogate Tap and The Colmore.  Although the Newcastle Tap was only born in 2016, as Pivovar we have 16 years of experience buying, selling, keeping and serving beer. We are the beer pioneers.
Our 24 lines including 8 extremely well kept cask (unfortunately a dying art that we are proud to keep alive) and 16 keg lines, all served at the perfect temperature. We keep a vast selection of styles that routinely change, from Pilsners to Porters, Saisons to Sours, Wits to Weizens, and everything in between. You'll never be hard pushed to find something that tickles your fancy. Not forgetting our eclectic collection of canned and bottled beers, we showcase a few more oddities from time to time.
Our knowledgeable team are always on hand to help you find something, but if you want to explore yourself before coming down you can find our live menu below on Untappd.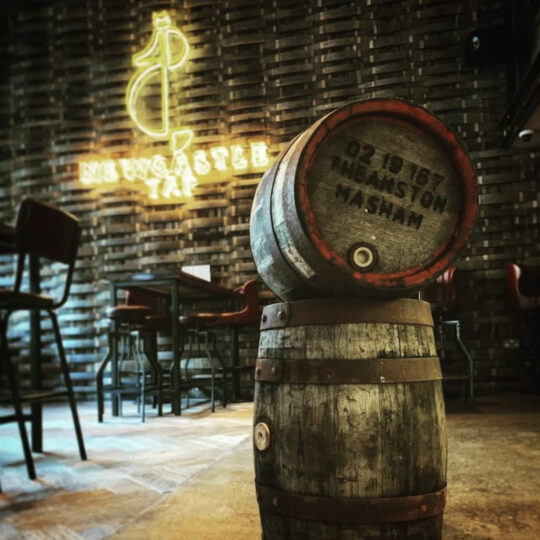 Hand-Stretched Pizza
We make our famous 'beer dough' fresh every morning using the finest authentic Italian ingredients, and a good glut of Weihenstephaner Wheat Beer straight from the tap.
The Dough Process
Mixing: We mix 00 Caputo Flour, Salt, Water & Beer before adding primed fresh yeast. The beer gives the pizza an extra crispy base and distinct leopard spots.
Proving: Our dough is proved once at room temperature for an hour, before being portioned up, balled and cold proved once more for 24hrs. This makes the crust extra fluffy.
Stretching: The dough is hand-stretched to order and stone baked in our pizza oven at around 360 degrees Celsius.
Keeping it Local
We are proud to use local suppliers to provide our tasty ingredients for all our pizzas.  All our Italian specialist products, such as our tomatoes, flour and cheese come from Continental Quattro Stagioni (Dunston), our meats are supplier by Freeman Catering Butchers (Team Valley) and all of our fresh produce comes from other local suppliers.  This helps ensure we are using only the freshest of products whilst supporting local businesses which is something close to our heart!
Allergens and Intolerances
Are team are trained to look after our guests with allergens and intolerances.  Almost all of our menu can be adapted to cater for those who are Gluten Free and we hold in-depth information on site for all other major allergies.  Please speak to a member of the Team before ordering if you have any allergies or intolerances and we will be happy to help with your choice!  Should you wish to contact us in advance about this, please call or email us (details us in the 'Contact Us' section on this website!)
A Little Tipple
As well as our amazing beers, we also have a selection of premium wines and spirits.  We have paired with Berkmann Wines and Spirit Cartel to bring some of the most unique products out there.  Both companies share our passion for excellence and the range they supply us is top notch!  Have a check and see!
Opening Times
| | |
| --- | --- |
| Monday | Noon – 22:30 |
| Tuesday | Noon – 22:30 |
| Wednesday | Noon – 23:00 |
| Thursday | Noon – 23:00 |
| Friday | Noon – Midnight |
| Saturday | Noon – Midnight |
| Sunday | Noon – 22:30 |
Food Served
| | |
| --- | --- |
| Monday | 12pm-9pm |
| Tuesday | 12pm-9pm |
| Wednesday | 12pm-9pm |
| Thursday | 12pm-9pm |
| Friday | 12pm-9pm |
| Saturday | 12pm-9pm |
| Sunday | 12pm-9pm |
Find Us
You can find us just down the road from Central Station, opposite The Royal Station Hotel.
Newcastle Tap, Baron House, 4 Neville Street, Newcastle upon Tyne, NE1 5EN
Parking
We do not have on site parking, however, the nearest car parks to us are located here:
Stephenson's Quarter, Forth Banks, Newcastle upon Tyne, NE1 3PH
Waterloo Street, Grainger Town, 51 St James' Blvd, Newcastle upon Tyne NE1 4AU
Need to get in touch with us?
Give us a call on 0191 261 6636 or you can email our General Manager, Scott Rutterford-Byrne, at gm@tapnewcastle.com